7 Kayak Activities You Can Do Today (Fishing, Camping, and More)
Last updated Feb 23, 2021
Spring is almost upon us, which means the great outdoors, camping, boating, fishing, and more. Whether you aspire to hike every trail this summer, boat every river, or swim in every lake, there are endless options to get outdoors, be active, and see new sights to break up your day-to-day routine once the weather changes. Kayaking is our personal favorite recommendation and not just because kayaks are our thing.
Kayaking can often be seen as a simple activity from beginners or outsiders — hop in and paddle, what more is there? But kayaking actually offers a variety of different activities delivered directly from the cockpit. If you're itching to get outside this Spring and Summer but you're not sure what you can do to stay busy and active, give a few of these kayaking activities a try. One purchase can lead to limitless adventures.
1) Fishing Kayaks are a Must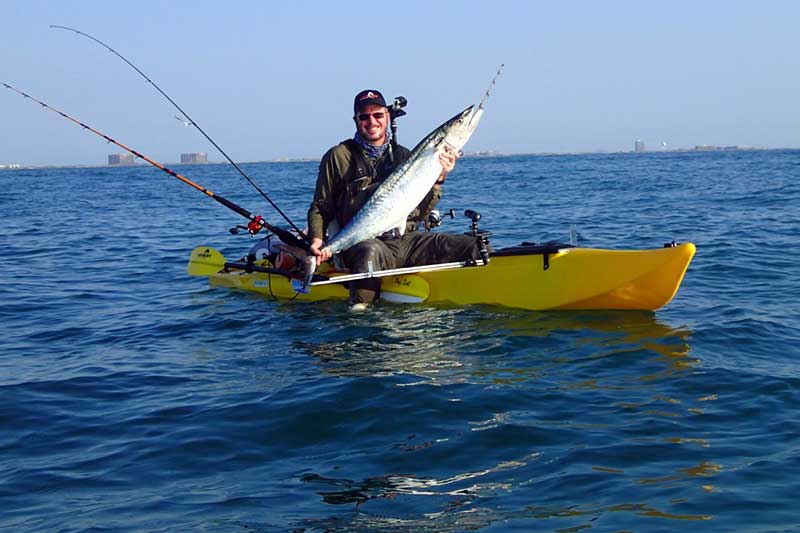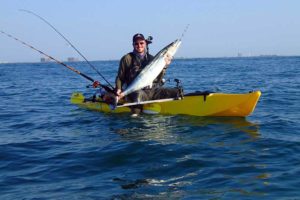 One of the favorited kayaking activities is fishing. In fact, companies like ours are dedicated to making fishing kayaks to enhance a fisherman's experience. The Santa Cruz Kayaks have a stable design that gives you extreme balance when out on the water, so when you're reeling in your big catch you only need to focus on the task at hand — not trying to balance while you do it.
We love fishing kayaks because it takes you out on the water, you can paddle or invest in a pedal kayak to get you to new locations, and you take in new sights while relaxing on the water. Even if you don't invest in a fishing kayak, you can modify a regular pedal kayak or paddle kayak with ease to accommodate all of your gear. And if you don't feel like fishing, a fishing kayak will stay lend you new paths to new adventures.
2) Pedal Kayaks Free Up Your Hands for Photography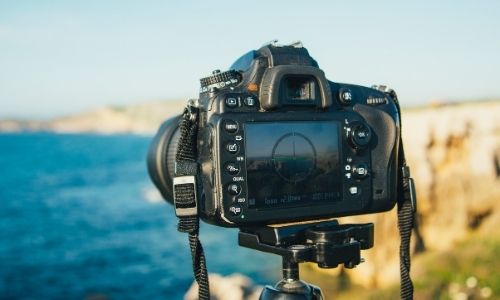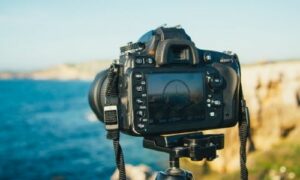 Are you a photography buff? Whether it's with a high-end camera, GoPro, or you've gotten great footage with your phone, a pedal kayak is going to let you get new shots you've only imagined. It may be counter-intuitive to imagine taking your camera out on the water, but pedal kayaks give you peace of mind and freedom to move about, snap photos, and protect your camera.
Quality pedal kayaks, similar to fishing kayaks, are designed with your hobbies in mind. This means secure compartments to hold your camera gear and the pedal function leaves your hands open for any shot you come across.
If you've been sticking to land for all of your photos and you want to explore more while still embracing your hobby, kayaking can do that. Get a workout in, discover new locations, and get incredible shots you never expected. Plus, if you're a novice photographer, this is a great way to explore, experiment, and try out something new.
3) Larger Kayaks for Sale Offer a Chance for Camping Trips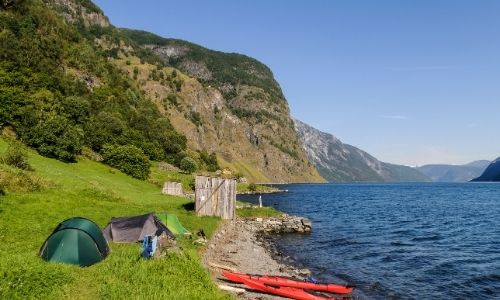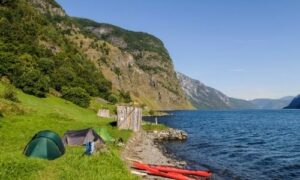 Many people may not be aware of the storage capacity some kayaks offer. A traditional, recreational kayak that you rent for a day on the lake can't take you on a multi-day camping trip, but other kayaks can. Some fishing kayaks and travel kayaks for sale are designed to hold equipment like tents, sleeping bags, food, and other necessary items for a comfortable camping trip.
Kayaking to your camping spot is one of the best ways to truly dive into nature and escape society: you're off the regular path, you can find seclusion easily, and you're sure to have a wonderful, waterfront view.
If you've been camping or kayaking for a while and you're interested in taking either to the next level, investing in a larger kayak for sale is the right idea to find new places to visit you wouldn't otherwise come across. Talk to a local kayak professional about your travel plans and they'll help you get the right paddle or pedal kayak for a long trip.
4) Paddle or Pedal Kayaks Give You Limitless Exercise Options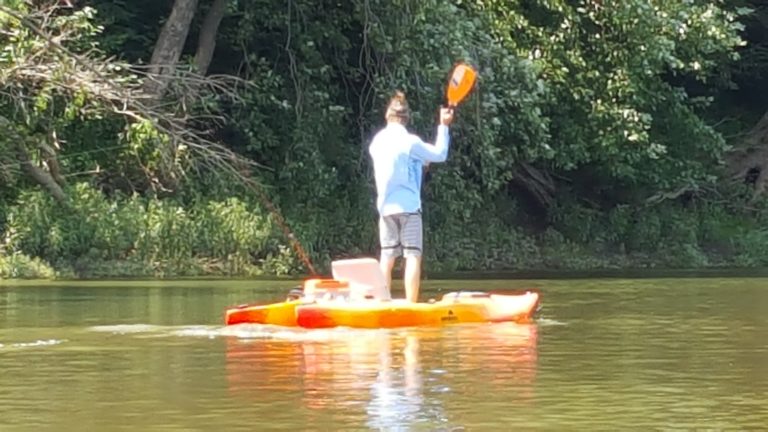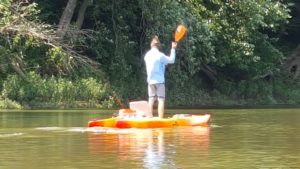 No matter what activity you decide to do with your kayak, exercise is always part of the package. If your goal is to get active and be outdoors, a kayak will provide consistent activity without being monotonous.
Our recommendation if your goal is exercise is to get a pedal kayak so you can have the best of both worlds — pedal power for your legs and a paddle option for when your arms need the workout instead. This allows you to travel local lakes, rivers, and sometimes even the ocean to get your workout in. One purchase gives you limitless options to get in shape, bask in the fresh air, and try something new.
The best thing about exercising with a kayak is that it can be solo or in a group — take to the water for some solitude or wrangle some outdoor friends together for a group trip. You're not restricted when it comes to kayaking as your primary physical activity. 
5) Surf Kayaking with a Stable Kayak Can Be an Adventure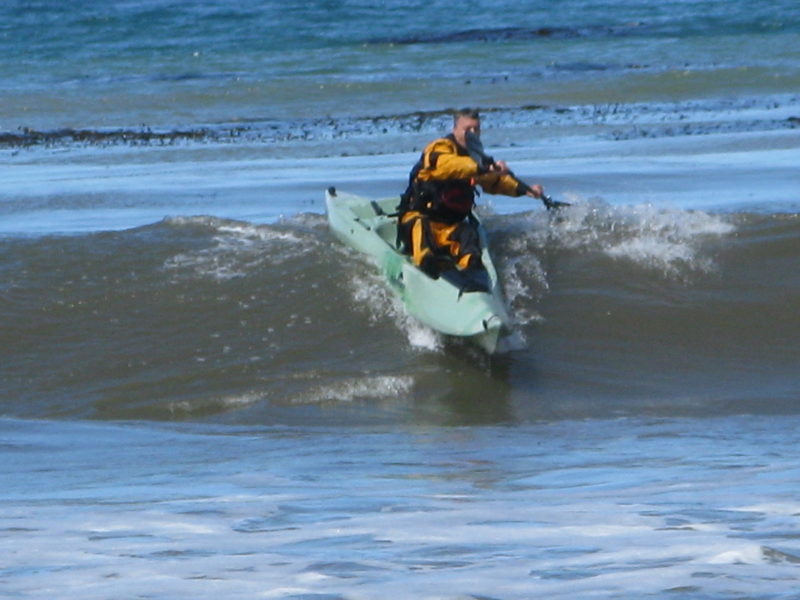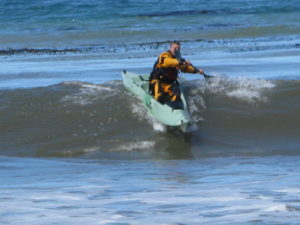 Similar to whitewater rafting, surf kayaking is an adventure you should try if adrenaline is more of your thing and you are frequently by the shore. This activity generally relies on a kayak similar to a whitewater kayak although some kayakers will use a sea kayak or any other stable kayak for sale that is safe for use.
This isn't an activity for novices by any means, but if you want a goal to work up to, this could be the activity for you. Learn to surf waves from the comfort of your cockpit and you'll find a new rush you can't wait to get back to season after season.
Surf kayaking naturally lends its self to surfers, white water rafters, or it's a simple transition if you're constantly using a sea kayak. Once you learn to navigate the ways, your kayaking adventures will be more enjoyable overall. 
6) Wildlife and Bird Watching from a Quiet Kayak Trip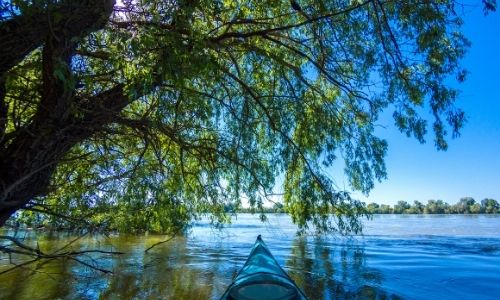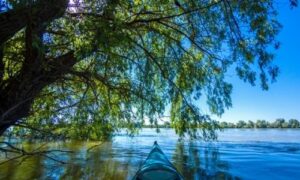 Not all kayak trips have to be an adventure that gets your adrenaline pumping or requires a large time commitment. Sometimes, the best activity you can do with a kayak is head out to some quiet water and silently observe wildlife and birds in their natural habitats. This is an occurrence that frequently happens with fishing kayaks, as fishermen are quiet and try to blend into the background, allowing all sorts of animals to wander into their path.
If the outdoors, in general, is what you seek, pick up a kayak for sale, float some local bodies of water, and take in the sights without any distractions. This will give you relaxation plus physical exercise, so you can get the best of both worlds and still get out of the house. 
7) Take a Dip and Go Swimming from Your Pedal Kayak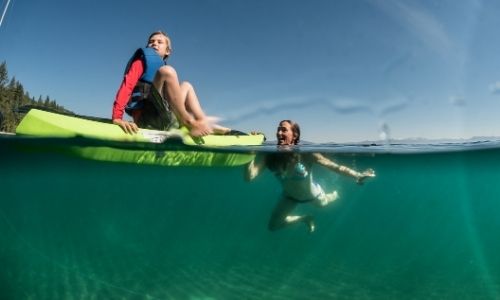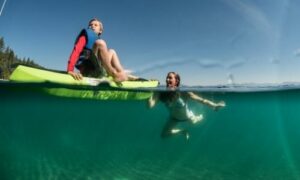 Although kayaking will generally keep you dry it doesn't mean you have to stay out of the water. Getting a pedal kayak allows you to push out off the shore of local lakes and jump in for a swim without already having your arms exhausted from the paddle out. Swimming from a kayak is often overlooked because you do need the skill to exit and enter from within the water. However, if you love the water, picking up some novice kayak skills will be a breeze and you'll be swimming in new locations in no time.
This is a great outdoor activity to get together and do with friends. Whether you take several kayaks, kayaks and canoes, or go tandem, it's a great way to cool off after a hot day while getting to enjoy a full day on the water. 
Being active, enjoying the outdoors, and partaking in a variety of hobbies with minimal investment is something everyone searches for, and a good kayak for sale can really be the ticket. If you're able to haul your kayak with ease you can go camping, take photos, go fishing, enjoy sightseeing, and more, all from the same cockpit.
Check out what all the fuss is about and contact your local kayak dealer in Maryland today to discover why so many people choose this as their favorite hobby. You'll never look back, and Spring, Summer, and Fall will all grant you outdoor experiences from the water.